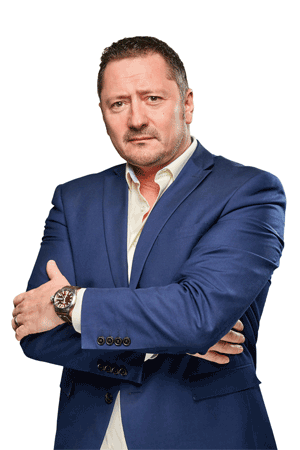 When Elon Musk confirmed on Twitter that he is working on his new project Neuralink, a brain-computer interface venture company, it wasn't much of a shock in the industry. It was expected from someone like Musk who is known for ambitious futuristic projects like high-speed Hyperloop and Space X reusable rockets. But much before AI started to be at the forefront of next-gen technology, many visionary business leaders across the globe have been betting on AI, mainly how AI would change the way we do business. One amongst them is Chris Sykes, CEO at Volume Global
Chris started Volume back in 1997 primarily as a B2B marketing agency. Volume predominantly worked with the large global IT players like Oracle, Dell, HP, CISCO, Plantronics. Over the last few decades, Volume has been developing applications that complemented their legacy products, the applications that these giants are known for. Working with some of the top technology companies across the globe, Chris has been an early follower of AI. Chris was early to identify the opportunity to turn Volume's non-cognitive applications into AI products with the help of AI platforms such as IBM Watson™.
Volume has since helped some of the world's biggest brands to empower their workforce and improve their customer experience using AI applications, successfully turning digital experiences into cognitive ones. With the focused advancement and cutting edge technologies like cognitive computing, AI, and humanoid robots, Volume Global is surfing on a high tide and providing companies with technology tuned to their specific needs. Today Volume is a global company with around 115 employees in three offices worldwide – including a 12,000-square-foot Digital Campus in Wokingham, England.
Customers will not have to look elsewhere, but just log on to the company's website to see how AI could drastically change the future of business operations. Volume's website, the world's first cognitive one, is Lusy, a digital concierge supported by Watson. Volume, by being its customer, is exhibiting the advantages of having an intelligent conversational AI platform replace the traditional website and offer a more interactive customer experience. "We are looking at Lusy as a 12-year-old. She will learn and improve. So we have constantly been monitoring interactions with Lusy. She will be able to respond well to on topic questions which she has been trained in. But she has to deal with off-topic questions as well. We have developed a piece of technology called CASY (Corpus Assessment System), which allows us to monitor the quality of the data model and make rapid changes or to add in another dialogue stream or to scale up the domain. The objective or KPI (key performance indicator) against Lusy was to help with Volume's visibility in a very crowded space, to give us credibility with AI vendors like IBM, Microsoft, Google, etc. She has been able to showcase to potential customers how these conversational AI platforms would work. The conversations that she had has led us to direct conversations with very large organizations, which we would not normally be able to get in front of."
A MARKET STRATEGY THAT MAKES SENSE
Advantages of using AI are now becoming more apparent to organizations as the benefits of Big Data became evident at the beginning of the decade. They are investing in AI technologies that manage their front-end and the "first touch" as Chris Sykes likes to call it. Automating the self-serve cycle is crucial. Volume is ahead of the curve in achieving a lot more for organizations with AI. Volume's services help boost efficiency and optimize human performance, enhance existing applications using AI, find more innovative ways to gain, train and retain human resources, monitor employee wellbeing and innovate an organization's brand experience. This era heralds the dawn of the fourth Industrial Revolution, and Volume is one of the companies shaping it.
Chris understands that it may be still early to expect the company's potential clients to be acutely aware of how Artificial Intelligence could improve their business. The company's unique market strategy focuses on challenging this knowledge gap. The company calls the process CSIP – Cognitive Solution Implementation Programme, a four-phase program. In this process, the company helps its potential clients to understand the current capabilities of Artificial Intelligence, gains knowledge into customers' business vision, and build a MVP 'Minimum Viable Product' that is measurable against the Key Performance Indicators (KPI). A more detailed description of the process is available by talking to Lusy at  www.volume.ai.
BEING HUMAN ABOUT AI
At the heart of Volume's success is 'Volume People' the company's workforce. Chris identifies the hybrid nature of his team as the main reason for the company's success. "I think, why we have been so successful in bringing AI applications to market is the fact that Volume is essentially a hybrid company. On the one hand it is our digital agency, our creative side; what we do from an agency perspective is we create content in all its consumable forms and manage it. And the other half of the business is purely our software development team. We are able to collaborate the left and right side of the brain". Chris is careful to distance his company from comical avatars or any such modern icons of AI which lack the ability to display a human-like intelligence. His focus is to create Intelligence with empathy. This mantra has been the backbone of Volume's transformation from a digital agency to an AI solution provider. The company engages highly-trained specialists to take care of even the smallest tasks. "Our traditional copywriters are retrained to create dialogues with the tone of voice and the personality to give that human empathy to conversational AI platforms. Then we have UX specialists because we are asking questions. We are not required to have the traditional web application real estate such hamburgers, drop-down menus, navigation bars; we don't need all that. Also, we don't want to go to the market using avatars; avatars are subjective. They don't look human. They look comical. We need an AI application to look interesting, and that shows intelligence behind the screen. We have people who will manage the data model (the corpus of knowledge) to ensures that the brain is functioning properly. It takes about eight specialist roles to bring a conversational AI platform to market. We rely on the customers to provide us our subject matter experts."
WORK, GOING GLOBAL & THE VISION
Despite still being a fully self-funded company, Volume continues to grow rapidly with its ever-increasing expertise and market presence. Thanks to the company's traditional revenue streams Volume can invest  deeply in research and development. To meet the requirements of scaling up rapidly, Volume has established the Centre for Cognitive Computing in Colombo, Sri Lanka (COGCOM). Volume also works with Softbank Robotics and Qihan, both robot manufacturers, to provide experiential interactions through their AI solutions. The robots are named Pepper and Sanbot respectively, and Volume is working towards making them part of their solutions to further automate customers' self-serve cycle. Volume also has a roadmap to provide cognitive solutions in regional languages that run parallel with Watson's ability to work with languages other than English.
Chris Sykes envisions a future that has been predicted by numerous science fiction movies, books, and shows. "We operate under the umbrella that we optimize human performance through smart machines. Our mission is to make lives easier for human beings whether it's in a business or as a consumer. The vision is to remove humans from boring mundane tasks and move them towards higher value and more motivating interactions. We see AI as the next step in Automation.  In our roadmap voice, image and gesture recognition is going to be the key next step for us, as is making interacting with smart machines easier and more personal. We are moving towards developing virtual personal assistants that are going to be omnipresent across all your device touch points like your phone, TV, tablet, smart-wearable, etc. whatever you use to connect to an online service. That's how I envision it. That all humans will have a virtual personal assistant that keeps them connected across devices."
Ever wanted a Jarvis for yourself?