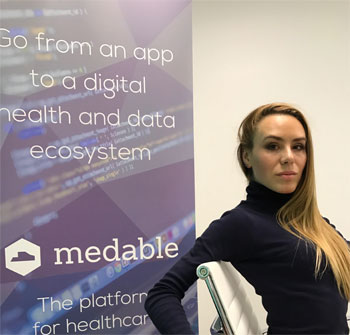 Some 58 percent of smartphone users have downloaded a health-related app, according to an NYU Langone Medical Center study of 1,604 US smartphone owners. A 2014 report from Flurry Analytics shows that health and fitness apps are growing at a faster rate of 87% than the overall app market. With the advent of tracking bands, smart wearables, etc. the number will only grow up in coming years.
These ever-increasing healthcare apps and smart wearables produce tons of data; data that can define the context of our life. Transforming this big data into smart data is Medable, a leading app and analytics platform for healthcare.  "Earlier, the context of our lives is not captured or considered in healthcare delivery. Decisions about our health and clinical research discoveries are limited to the small amount of static data captured in clinic visits. With continuous health data streams via mobile, we can now incorporate context into clinical care and clinical research. But deriving insights and meaning from this data requires advanced analytics systems and AI. Using AI, we will better understand how the way in which live our day to day lives, contributes to health and disease and once we do, we can leverage AI to optimize our behaviors in real time, for health."Says Michelle Longmire, Medable's CEO and founder.
 Medable's mission is to enable clinical research discovery and clinical care outcomes optimization with mobile technologies. Medable does this by enabling researchers to create healthcare apps for study participation and doctors to create disease management apps for patient care, without a developer. The company has partnered with Redox, the leader in cloud-based interoperability API services to enable the use of EHR data to streamline mobile medical research. The partnership enables the first fully-integrated medical research and clinical care platform between smartphones and EHRs.
Cerebrum, the first cloud-based machine learning platform created solely for health apps, is the latest addition into the array of products they offer. "Cerebrum has been built from the ground up by our team using open source frameworks as well as custom frameworks. Unlike other systems, Cerebrum was purpose-built for digital healthcare. This focus is important in delivering real product value and capability," Dr. Longmire explains. With cerebrum's ability to harvest data across the network, find patterns, and rapidly generate novel insights, predicting a health event, such as warning an elderly relative when he is at greatest risk of a fall, or preventing an asthmatic child from triggering a life-threatening episode, becomes easy and more accurate.
 Today more and more people depend on their smartphones to track their health. With Cerebrum, smartphones become smarter health devices. Cerebrum can be used with Apple's ResearchKit, HealthKit, CareKit, and other mobile platforms to effectively learn and treat digital signatures of health and disease.  "We are on the cusp of an era of continuous care and diagnostics.  Eventually, smartphones will become intelligent diagnostic tools, like a physician in the palm of your hand." 
Cerebrum provides machine learning across the ecosystem of clinical and study data, including standard clinical instruments and patient-reported outcomes data, meta-data from mobile devices, connected devices, and genomic and epigenomic data.  
The adoption of cloud computing in the healthcare industry has been a slow process due to concerns around security, regulatory and compliance.  Healthcare providers have also spent enormous effort on data-gathering and data preparation, but they have struggled with using the data itself.   Medable's solutions address these concerns and enables doctors and researcher to do what they do best, care for patients and advance our understanding of health and disease, with new technologies.