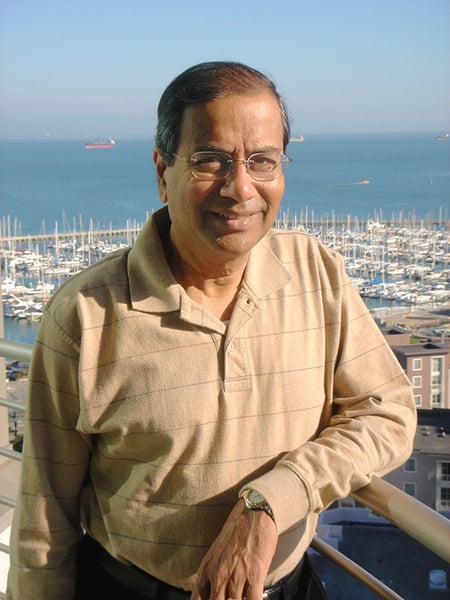 The pace of delivery in today's software world has never been faster and more competitive. IT teams of organizations are always getting challenged with increasing demands both from the market as well as their own lines of Business. These demands have raised the need for implementation of Continuous Delivery(CD)  and DevOps practices. Organizations need to implement solutions for achieving faster delivery in a more predictable, scalable and productive way by automating their delivery process with complete visibility to every stage of the release process in a collaborative manner. 
Headquartered in San Ramon, California Kovair Software with its Kovair DevOps Platform helps organizations to drive this transformation and improve their IT efficiency by automating and orchestrating software releases, pipelines, and deployments across multiple environments. 
Kovair DevOps with its capabilities not only bridges the gap between Operations and Internal engineering teams but also automates the entire process from code check-in to deployment through a concurrent task-based CI/CD pipeline. It provides a real-time insight to improve delivery velocity, helps identify and eliminate bottlenecks, and delivers with lower deployment costs. Kovair DevOps comes with built-in reports and dashboards for process compliance, security vulnerability assessment, and operational monitoring across all phases of application lifecycle. The unique capability of Kovair DevOps also allows organizations to: 
View the status of the pipelines or invoke, pause, and stop them by e-mails, and if needed allow for it all to be done remotely with WFH (work-from-home) team members. 

Invoke custom routines and Microservices to be a part of the delivery process.

Enforce Process Adherence to the process such as proper DevSecOps security testing.

Ensure role-based controls are adhered to, such as release management with proper signoffs.

Provides Low Code/No Code Drag-and-Drop configurable task-based CI/CD Pipeline

Monitor & manage multiple pipelines across multiple projects with complete visibility to Value Stream

Supports Secure edge computing with deployments over public/private/hybrid cloud, Kubernetes clusters or any on premise and VM environment

Allows for hybrid multi-cloud solutions, with secure, DRaaS (disaster recovery as a service).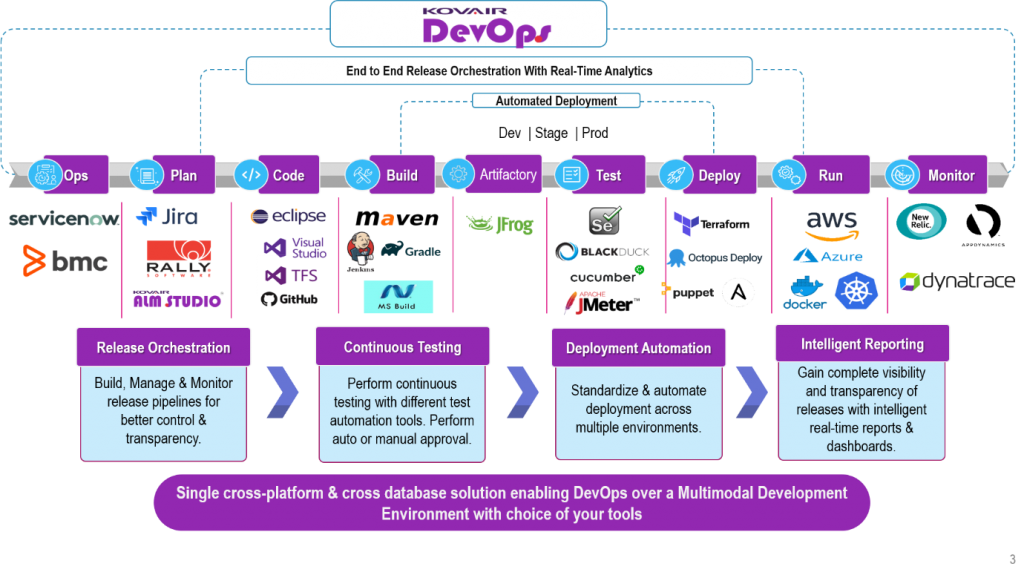 Kovair DevOps is a single cross-platform and cross database solution enabling DevSecOps over a multimodal development environment with any preferred set of tools. "The Kovair DevOps Platform provides enterprises with the CI/CD functionality necessary to deploy applications to any platform at any scale. It delivers task-based pipeline for orchestration of release activities, build & deployment automation functions and real-time analytics that are designed to meet the unique needs of implementing continuous delivery, helping companies manage applications deployed in the heterogeneous environments like on-premises or Cloud" states Bipin Shah, CEO, Kovair. The enterprise-class automation solution also provides comprehensive workflow orchestration for better, faster, and more accurate software development.
"Kovair DevOps has obtained Red Hat Enterprise Linux certification. This allows Kovair DevOps to be deployed on both Windows and Linux servers. This certification will help customers achieve a highly reliable and a rapid path to an enterprise-ready DevOps platform." stated Akshay Sharma, CTO of Kovair Software.
Kovair's Gartner Cool Vendor award-winning proprietary ESB, Kovair "Omnibu which is also recently launched as Kovair Enterprise iPaaS offers a platform-centric approach to connecting both ALM and DevOps toolchains across heterogenous environments that support end-to-end capabilities for continuous delivery. Kovair Omnibus not only offers integrations with more than 110+ multifunction, multivendor as well as opensource tools covering all phases of ALM, PPM, PLM, ERP, CRM and ITSM functions but in addition Kovair has proven experience on integrating with custom in-house tools of organizations.
"Enterprise DevOps is a form of rapid software delivery, bringing momentum to agility and helping organizations reduce time to market with built-in quality. Kovair's VSMP for DevSecOps is centered around the concept of continuous delivery pipelines achieved through automation of different activities involved in the delivery cycle, with Shift-Left Testing and Analysis, for security vulnerability detection. This integration will help customers achieve a highly reliable and rapid path to an enterprise-ready DevSecOps solution, with the required governance metrics." Stated Amit Dasgupta, Director of Solution and Major Accounts at Kovair Software.
Kovair's VSMP Toolchain addresses the need for unified visibility, orchestration, integration, governance, and management of the ALM and DevOps value stream, and now added Security Vulnerability Assessments are included with operational management dashboards for ISO Security and Risk Management. Kovair's VSMP for DevSecOps solution improves flow and traceability, with process compliance, and end-to-end product lifecycle management.
Kovair DevOps solution not only delivers a set of tools but also helps organizations to implement DevOps but at every stage ensures that different stages of DevOps maturity cycle are achieved as shown below through proper assessment at every stage.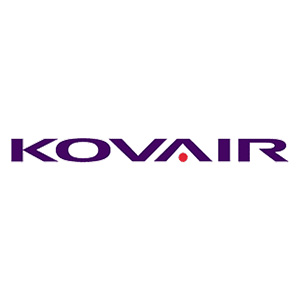 Kovair
Management:
CEO- Bipin Shaw

Description:
Founded over two decades ago, and currently headquartered in San Ramon, Kovair is a software product company mainly dealing connectors for ALM/SDLC tools and integrated application lifecycle management solutions. Kovair is a software product company mainly dealing connectors for ALM/SDLC tools and integrated application lifecycle management solutions.