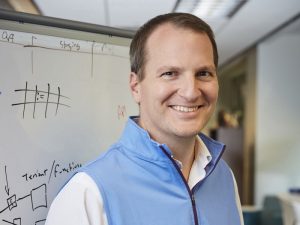 Regardless of industry, everyone is challenged these days to do more with less. Unfortunately, in the construction industry, there isn't enough skilled labor to work in the field, making it difficult to fill the available positions. On top of that, market pressures are squeezing construction budgets, margins, schedules, and material suppliers in the construction space. By digitizing and automating their processes, data-driven heavy materials operators can save time and money, improve safety and compliance, reduce mistakes and downtime, increase loads/quantities per day, and improve time to service demand. This is where Command Alkon—a company that delivers solutions that offer enhanced visibility, business process automation, and supply chain collaboration— is transforming business operations by replacing manual and complex tasks with efficient, scalable, and reliable solutions. "Our ability to help customers to operate a more refined and efficient supply chain enables them to boost productivity levels by giving them the power to do more with less without hindering their customers' experiences," adds Chris Strickland, VP of Product Management, Command Alkon.
Over the years, Command Alkon has been focused on helping businesses operate and increase efficiencies within their own four walls. The company's CONNEX Platform is a cloud-based hub leveraging trusted Command Alkon solutions, as well as other software vendors, to facilitate collaboration between partners in the heavy construction world, including materials suppliers, haulers, producers, various types of contractors, brokers, DOTs, and more. Furthermore, Command Alkon's solutions help customers to build sustainably by enabling them to reduce waste, reduce time spent on non-productive tasks, reuse concrete, and reduce carbon emissions. "Our technologies enable new and exciting collaborative use cases between any buyer and seller of heavy materials and trucking in our construction ecosystem," explains Strickland.
Command Alkon today has a wide variety of cloud-based (web and mobile) and on-premise solutions. Building on these traditional product offerings, the company's latest CONNEX cloud platform expands the capabilities and reach of all Command Alkon products. The many software solutions that generate data are connected into CONNEX cloud-based platform powered by AWS, allowing data to be used across all constituents that make up the heavy building materials ecosystem. The data is more than supply and demand signals; it is more about having the ability to manage all operational activities in real-time. "Our job is not data collection, but instead, use technology and our industry know-how to help our customers get the most out of that data in new and exciting ways," states Strickland.
Many construction technology providers develop solutions that solve problems across multiple sectors – or more broadly, multiple industries. Command Alkon is deeply focused on the use cases of the heavy building materials supply chain, particularly with the ready mix, asphalt, bulk materials, and trucking. Command Alkon's solutions go miles deep into the use cases required of specific industry niche, rather than other companies who may go miles wide and only scratch the surface of the true needs of the customers. "Our product portfolio is more comprehensive than any other provider in our niche globally, and the integrations and data flow across Command Alkon and other third-party systems is unparalleled," Strickland adds.
The key to Command Alkon's success is its people, and deep industry subject matter expertise, made possible by the vast exposure to industry best practices and lessons learned from customers over the years. The company strategically guides and consults with customers on business and process improvements, operational indicators to track or help them focus on the key big-picture initiatives that will help them move the needle. Command Alkon leverages expertise from their financial partner Thoma Bravo— a company that has a proven track record in guiding supply chain technology providers— for delivering the best possible tools and services to the construction materials industry. These types of synergistic partnerships combine years of industry experience and market-leading technologies that allow Command Alkon to deliver an even more comprehensive and integrated toolset for the industry at a faster pace.