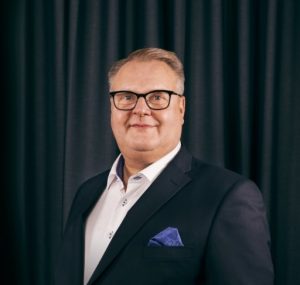 Today factory owners and plant managers follow a very simple modus operandi- if something brakes, they fix it! Management often has a good idea about what is the order intake, current stock, production target, and raw material requirement. They are well versed about what is supposed to happen, but rarely have any idea about what is happening in real-time. MES, dashboards, and other BI systems that are in use, only help to produce reports about the incidents that already occurred or to plan the process. However, they fail to provide a real-time image of what is happening, as they lack a unified system that connects all the data. "If I go into a conference and ask the audience, raise your hand who can take your mobile phone right now and have access to real-time data of their factory and know what will happen in advance including any possible slip-ups, there's no one who will raise their hand except our customers," explains Kari Terho, IoT Head- Elisa , about the current scenario.
Elisa, a traditional telecom giant in Finland, ventured into IIoT back in 2011, initially to address their internal problems. The company had around 5 million devices, ranging from routers to switches to servers, in their network back then. What they created was a system that connects all these devices and collects real-time data, so they can analyze the data to predict possible hiccups. By 2014, 35% of companies' incidents were handled by the system's predictive algorithm, and this is when they started to roll it out for external factory customers who had  similar requirements. Today the company's network center is fully automated with over 50% decrease in incidents from 2011. "We don't sell solutions that we think will work, we sell solutions that we know will work because it works for us," says Kari.
Elisa smart factory management, company's flagship solution connects all the data sources such as share points, ERP, PLM, MES to create a single data lake. The data can then be manipulated to create a real-time virtual image of the factory. The platform can even predict maintenance requirements and failure threats using advanced technologies such as machine learning and artificial intelligence. Smart factory solution was built on PTC-ThingWorx. On top of ThingWorx Elisa also uses technologies such as MuleSoft, Azure, and Kepware. These technologies allow Elisa to create powerful rules and predictive models that equip companies with absolute control over the production process. Another interesting factor of Elisa smart factory management is its visual interface and 3D modeling. Elisa also owns several gaming companies. Elisa was successful in bringing their gaming engine into the smart factory so that the users have a compelling visualization of a real-time process in the factory. They can access the visuals through either app or web interface from any device, anywhere in the world. "We give the factory owners a complete picture of what is happening, why is it happening and what will happen," says Kari.
As a prominent presence in conferences across Europe and US and as a keen observer of the industry, Kary has witnessed the shift in the industry towards IIoT in recent years. CXO level executives are often visiting IoT conferences today seeking ways to jump into the bandwagon of IIoT. However, the problem is that there are so many vendors offering different products and services. Companies often end up paying millions of dollars for services which are of no use to them. On the contrary, Elisa encourages its customers to start small, take small steps such as digitalizing one production line or paint shop. Experience the benefits in real life, and then roll out, just as the way themselves did it.
With already servicing prestigious clients such as Procter & Gamble and Danfoss and with the presence in various industries like, electronics, FMCG, packing, Elisa aims to become the leading digital transformer of factories across the globe. "We do only one thing (digitalizing factories), and we are very good at it," concludes Kari.