About three years ago, Mike Banbrook sat down with his colleagues at Convai's Auckland head office to address one of their great frustrations. For more than two decades, the company had been committed to making contact centres run more efficiently. Under its original name of VeCommerce, it had been one of the earliest movers to bring complex speech recognition and voice biometrics solutions to market and had established a well-earned reputation for delivering high-quality and highly functional speech solutions. There was one catch though. "The highly bespoke nature of our solutions meant the great customer experience we were facilitating was limited to the largest contact centres that could afford to invest in the technology," explains Banbrook, who oversees 20 staff as Convai CEO."We asked ourselves 'How can we make this technology available for every contact centre, both large and small?' and the answer was Oration."
"Through a confluence of events including cloud adoption, great new recognition technology, SaaS building blocks from AWS and our know-how, we have been able to create something completely ground-breaking and feel incredibly proud to finally be able to be helping contact centres of all sizes create amazing caller experiences."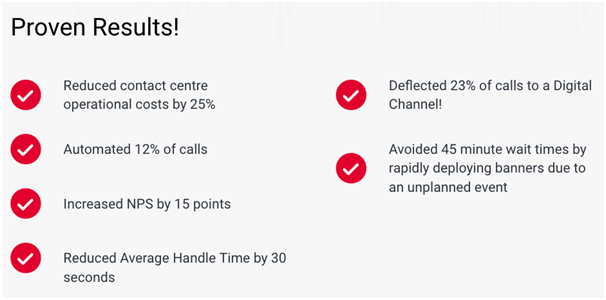 The Oration effect
Just like the company he runs, Banbrook has spent years invested in the fortunes of contact centres. With a PhD in Speech Technology, he is a passionate advocate of customer experience and a firm believer that getting the little things right leads to great outcomes. He also knows how tough the current environment is for businesses. "Customer contact has become the lifeblood of any organisation and all clients are struggling to provide enough resources in a cost-effective manner to handle the contact needs of their end customers," Banbrook says. "Contact centres need to be able to scale rapidly to cope with seasonal demands and even random events, relocate teams to home-based environments, communicate through more channels than ever before and increasingly answer calls 24/7.""These pressures cannot be handled by simply adding more people. That is not sustainable or cost-effective and that is why our clients are looking to Oration."
A cloud-based intelligent call routing plug-in, Oration is Convai's key product and enables business users, rather than IT or third-party vendors, to build, manage and advance their telephone contact customer experience. For complete platform independence, the solution is designed to be implemented over the top of existing technology infrastructure and allows contact centres to start reaping benefits within a matter of hours. "Oration can be thought of as the front door to a contact centre," Banbrook explains. "It answers the call and simply asks 'How can I help?'." "Through the use of the latest speech recognition technology, Oration then works out the caller's need and sends the call to the best possible place to handle it – an agent, a carefully crafted message tailored directly to their needs, an offer to switch to a digital channel such as chat or simply send the caller information by text message."
Another feature is that when callers do need to speak with someone, the agent receives a full transcript of their call to that point rather than being forced to once again ask: "How can I help?". "This typically saves between 15 and 45 seconds, which is an enormous time-saving in a contact centre," Banbrook says. "It also creates a better user experience for the caller because whatever they told the IVR is automatically shared with the agent. No repetition is required."
A recent addition to Oration is Identify, which allows callers to fully identify themselves and even verify their identity using voice biometrics or simple knowledge-based information such as their name, address and date of birth. Along with creating valuable time savings in contact centres, the innovation extends options for self-service as a fully verified caller can access additional services.
"On the back of the COVID-19 pandemic, customer demand has been unprecedented in the online retail and logistics sectors and significantly increased the need for our clients to respond to their customers," Banbrook says. "Every business wants to better handle peaks, create better caller experiences and ultimately provide better service and our solution is enabling them to do that by not only meeting that demand but moving it to the most cost-effective channels."
A fully scalable solution
Banbrook does not hesitate when asked to reflect on the role Convai's partnership with AWS has played in delivering its cutting-edge solutions to customers. "AWS is the building block on which Oration has been created," he says. "The range of SaaS services provided by AWS has enabled us to create a fully scalable, serverless implementation and that scalability is critical to a business in the early stages of growth. "With Oration, we have scaled from processing a few hundred calls a month to now having handled more than 15 million without needing to provision anything or even tweak any settings. The infrastructure just grows to accommodate our demand."
The AWS partnership has also allowed Oration to integrate tightly with the Amazon Connect contact centre offering, thus allowing AWS customers to sign up with Oration through Marketplace and typically be up and running within a matter of hours. In a further boost, the AWS ACE accelerate program has helped Convai reach more potential customers than ever and, in turn, drive adoption. "Oration was originally built to meet the needs of smaller contact centres but, as a scalable product, also works for medium and large enterprises," Banbrook says.
"Many organisations are finding it is both very expensive and incredibly slow over the long-term to rely on internal IT resources to build and maintain a complex IVR. Oration enables them to better utilise their resources to build APIs or use the solution itself to build the dialogues." "We are especially proud of how Oration has changed the landscape for smaller contact centres. They do not have the scale to afford bespoke solutions or the IT resources to build complex tools but Oration's use of AI means no specialist knowledge or coding capability is required. Creating and maintaining caller experience can be done by a contact centre manager or real-time analyst teams.
"It is such a relief for business users when they realise they do not need to work through the processes of change requests or find budget for change and implementation. Instead, they achieve a faster time to market for IVR solutions at a lower cost than competing solutions."
A bold new mission
Convai has come a long way since launching as VeCommerce in 2000.It has almost 50 clients including some of Australia and New Zealand's largest household names and its Oration solutions have processed more than 15 million conversations. The retail sector, in particular, has embraced Oration during the past two years as the COVID-inspired rush to online purchasing created a huge spike in contact volumes and complexity. Despite such wins, Banbrook and the Convai team have one eye firmly set on the future. "We are driven by our new mission to bring this technology to every contact centre anywhere in the world," he says. "No contact centre should be limited to providing a traditional menu-based IVR." "We are rapidly expanding through a network of resellers both locally and worldwide and while we are initially focused on the UK and US to leverage English-speaking regions, we are targeting additional language capabilities so that we can cover wider geographies in the near future."
Any tech company is only as good as its solutions and Convai has developed an agile approach to product development. In its early days, the company dedicated a team of developers to creating prototypes, iterating and even throwing away concepts until they got the interface right. Now the product team has two weekly sprints that push forward new features and prototype new concepts. "The fast cadence means the product is always evolving and was designed and architected from the start with this in mind," Banbrook explains. "That requires a deployment process that has no downtime and introduces new features in an elegant, intuitive way." "Data and data insights are also key enablers that allow us to make our innovations. Part of the art of creating effective human dialogue is knowing how people might respond and that requires data, of which we have 20 years' worth." "We combine that know-how into the Oration product to provide rich data and analytics to our customers, empowering them to identify opportunities to optimise their business outcomes."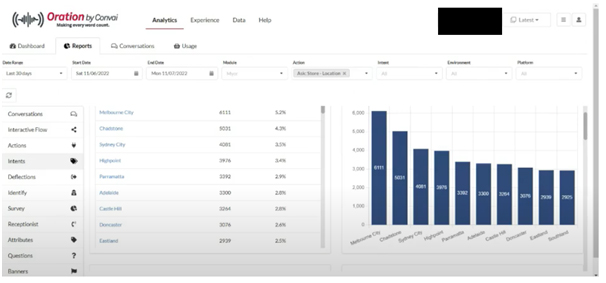 Asked for any final insights, Banbrook once again looks to the future. "Our product roadmap is very full, with a focus on further improving usability and adding extra power features that enable our clients to get more out of every call," he says. "Be it industry focussed fast-start packages, language expansions, prebuilt self-service options or further use of AI, we are not going to rest on our laurels."