As businesses are growing, is there data as well as the difficulties in managing it. Though there is an opportunity with the growing number of data, businesses need a variety of integrated solutions to analyze it and embrace the future with the power of data. In today's complex business landscape, a single product can't do it all. That's where Teradata comes into the picture. Teradata is the connected multi-cloud data platform for enterprise analytics, solving data challenges from start to scale. Only Teradata gives the flexibility to handle the massive and mixed data workloads of the future, today — making data easier to consume everywhere, with no added risk.  "Our open approach embraces the modern ecosystem to create a seamless experience for ingestion, exploration, development, and operationalization. We've created the fastest path to analytics in the cloud at scale at the lowest risk. Our experience working with thousands of customers and partners around the world, across a wide range of verticals and industries, makes us the most effective platform for delivering business outcomes and unlocking unlimited value by turning data into your greatest asset."
With as-a-service, Teradata manages the performance, security, availability, and operations of customers' analytics infrastructure. Internal teams can focus on answers, not IT. Teradata handles the details – software patches, version upgrades, performance reporting, and ticket resolution – so customers can manage their business. As-a-service includes comprehensive infrastructure and software support, including provisioning, onboarding, software patching, and updates. In addition, Teradata gives customers the information they need to control their account in one convenient web-based management tool.
The Connected Multi-Cloud Data Platform
An innovative and connected platform from Teradata is Vantage, the connected multi-cloud data platform for enterprise analytics that unifies everything—data lakes, data warehouses, analytics, and new data sources and types. In a nutshell, Vantage is a modern cloud platform for a hybrid multi-cloud world. Leading the way with hybrid multi-cloud environments and priced for flexibility, Vantage delivers unlimited intelligence to build the future of businesses. Only Vantage's enterprise-grade, multidimensional scalability enables to scale dimensions simultaneously to handle the massive data workloads of the future, today. The solution also enables to unleash the power of machine learning and artificial intelligence that scale out and up, powering more models, more quality, and better results. The highly intuitive platform is designed to offer teams secure, role-based, no-coding software that draws on 100% of data to support key business goals.
What makes Vantage different is its unique flexibility. Deploy Vantage however a business want: on public clouds (such as AWS, Azure, and Google Cloud), hybrid multi-cloud environments, on-premises with Teradata IntelliFlex, or on commodity hardware with VMware. With zero up-front costs, pay-as-you-go-pricing, and portable licenses between deployment options, Vantage is a modern solution that adapts as a company's needs change.
Moreover, Vantage unifies and integrates any type of data from sources within an organization — from industrial sensors to social media—to give a single source of truth. Supporting all common data types and formats, including JSON, BSON, XML, Avro, Parquet, and CSV, Vantage scales processing in every direction—all without compromise.
With Teradata's platform, businesses can get a complete view of the business by connecting and analyzing data across your entire ecosystem — from data lakes, object stores, and cloud services. As a result, it could empower users to access any data across your enterprise seamlessly, transparently, and at scale, using a broad set of open source and commercial technologies.
Easy and Seamless Controls
With Vintage, the world's most advanced workload management lets managers to assign processing resources to user workloads according to the business priorities, all with self-managing, set-it-and-forget-it controls. It also enables to take the complexity out of managing data by eliminating the need to perform detailed space management, reorg databases, repartition data, rebuild indexes, or tune queries.
The platform seamlessly enable descriptive, predictive, and prescriptive analytics and implement complex algorithms with languages that are already in use, like SQL, R, Python, and SAS, using popular tools like Jupyter Notebook and RStudio. Three high-performance processing engines—Advanced SQL Engine, Machine Learning Engine, and Graph Engine—drive all types of analysis in near real time, at scale.
The Never-Ending Partnerships
Teradata recently worked with the national police force in a South American country that needed help monitoring tens of thousands of kilometers of federal highway and ensuring that traffic flows safely and smoothly. Identifying areas of congestion and possible illegal activities was becoming increasingly difficult due to an inability to gain deep insights from disparate data sources. The country needed a solution that could integrate data from multiple sources, then make it available for analysis. As part of a smart state approach to connect data, technologies, and users from across the country, the solution also needed to offer scalability and high performance to handle growing data volumes. The country's police force realized the best approach was to implement an active data warehouse. Data from arrest orders, stolen vehicles, and other sources is now brought together in a single location. This gives law enforcement officials deeper, richer insights to more easily and quickly spot people, organizations, or vehicles involved in crimes.
With Teradata, the department could achieve a sound infrastructure that is the essential building block for any smart state initiative. The infrastructure must be skillfully engineered to integrate and manage a wide variety and large volumes of traditional and nontraditional data. This usually requires an integrated data warehouse, a data lake, and an analytics platform. A smart data management system uses the infrastructure to take data from agency silos, bring it together with data from a wide variety of other sources, then make the information accessible for advanced analytics.
The Road to Innovation
Teradata partners with the world's leading providers to deliver the technology, resources, and knowledge to help you overcome your toughest business challenges. As part of its evolution plans, the company recently announced the results of one of the largest-scale cloud analytic tests ever undertaken in the industry. Its success demonstrates that enterprise customers can run their complex analytic workloads on a single system in the cloud at unprecedented scale.
Modern data platforms in global 3,000 organizations often support tens of thousands of users and thousands of mission-critical business applications. This activity level drives upwards of 100 million queries-per-day, executed against petabytes of continuously updated data. With the success of its recent scale test, Teradata proved that it can successfully operationalize analytics at scale (1) on a single system of more than 1,000 nodes with (2) 1,023 active users submitting thousands of concurrent queries, (3) using a diverse set of mixed workloads, (4) and with no system downtime or outages. Also, Gartner recently named Teradata as a Leader in the 2021 Gartner Magic Quadrant™ for Cloud Database Management Systems report and Teradata Vantage ranked highest in all the analytical use cases in 2021 Gartner Critical Capabilities for Cloud Database Management Systems for Analytical Use Cases, including ranking highest in the Data Lake Use Case.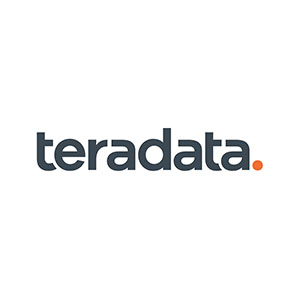 Company:
Teradata
Management:
Steve McMillan, President & CEO
Quote:
"Our experience working with thousands of customers and partners around the world, across a wide range of verticals and industries, makes us the most effective platform for delivering business outcomes and unlocking unlimited value by turning data into your greatest asset"