The Innovative mindset
Our mindset is how the future of the industry takes shape. The visionary mindset is a catalyst continuously empowering the path to building our smart cities to come. The architectural engineering and construction (AEC) Industry is currently implementing emerging technologies such as BIM, Laser scanning, drone mapping and robotics to support an efficient building lifecycle and boost productivity, maximizing efficiency on some projects. But is it enough? To respond to global increasing population, the need to combat housing supply shortage and more need for affordable housing; while building systems are getting more complex to respond to all the innovations happening between its walls from life science and healthcare projects to state-of-the-art academic and sports facilities. The need for mitigated risk, optimized coordination process, cost savings and speed to market project delivery has been instrumental to guarantee certainty of outcome. The need to embed emerging technologies in the construction workflow as a standard on most project delivery methods should be a standard in the AEC practice, to streamline decision making and support communication between design teams, builders, owners, and trade partners. Innovation is not about the latest tools, it is about the data, technology and how its utilized to offer a practical effective solution on time. Taking the right approach from the beginning of the project is key to meeting client's expectations. and it all starts with a mindset of being open to new ideas, take intelligent risks, scrutinizing the challenges of the project and responding with Technology methods and knowledge to drive results during preconstruction and onsite; by detecting conflicts early and resolving them, avoid costly delays and most importantly build a safe environment for the owner and the public.
Reimagining what is possible to advance the industry.
In a fast-changing world, Strategy and business models help reshape how innovative solutions can support design and construction work, the Innovation platform can support the transformation of the AEC industry by extending leading-edge technology-based solutions to many AEC firms nationally, and that's exactly what Windover did by launching the IDEA platform, Innovations for Design, Engineering and Automation which currently supports Architects, Engineers and builders with BIM, 4D planning, Reality capture, VR, Additive manufacturing and Automation solutions.
For years mixed reality has been a great technology to help visualize how projects would look like, supporting change management and design decisions. At Windover, mixed reality has been utilized in an unprecedented way to support the actual building process and assembly of 935 prefab trusses, through Fologram technology with hologram guided assembly used by the field team saving 50% of the time spend onsite for assembly. The innovative mindset of exploring new ways to utilize Augmented Reality in the making of things can transform the building process onsite to build in the most efficient and safe ways to build. In a similar manner utilizing laser scanning onsite for QA/QC to detect conflicts early onsite and resolve them in real-time, with robotics performing autonomous laser scans and utilities/walls layout directly from BIM data projects execution is now more progressive with increased labor productivity than few years ago. This reality capture data guarantee creating seamless collaboration from our project sites to our offices.
Novel 3d printing techniques has been utilized by Windover to create exact replicas of the architectural façade elements for a historic 120-year-old building. With a material that does not require maintenance for 100 years and environmentally friendly! Pushing the limits and the scale of achievements additive manufacturing can do is another testament of how innovative mindsets, creativity and hard work can redefine new possibilities and uses for new or even existing technologies.
Ever-growing Possibilities
By establishing a process of continuous research and development R&D process, we are defining new technologies and how it can be effective in detecting and resolving issues. The mindset of growing cross disciplinary collaborations between construction technology expertise and robotics companies can also help increase efficiencies on jobsites; for example, Windover collaborated with robotics software company to develop an autonomous laser scanning robot, also performing walls/utilities layout directly from BIM data. supporting VDC and field teams to save time and support safety onsite by capturing reality data autonomously in hard to reach or environmental hazards areas. Building Information modelling Data helps to methodically document projects progress and life cycle information supporting the Setup of lessons learned processes and knowledge transfer from project to project that can be key to adopt an accumulated knowledge base for continuous improvement.
All building types can benefit from leading-edge technologies, for example the revolutionary telescopic prefab stud by Howick utilized by Windover in a historic 100-year-old building is a novel renovation approach allowing BIM data to produce prefabricated high-quality product in record time, with no material waste and being adaptive with all existing conditions. The telescopic assemblies Can be easily transported and maneuver within tight corridors and small old elevators, while the telescopic feature allows for efficient and safe installation onsite. Technologies such as laser scanning and drone mapping can support the entire life cycle of the project for early existing conditions data capture to QA/QC support during construction and scanning of as-built MEPs onsite before closing walls and ceilings to support future facility management with highly accurate, visual, and easy-to-manage data.
whether it is a small, midsize, or large project, scale does not matter. Creativity can be tailored to tackle challenges and offer value.  The innovative combination and practical use of Latest technologies such as mixed reality, drone mapping and additive manufacturing can provide project specific solutions as well as general opportunities to transform the way we build, making a positive impact on our built environment. They key is having a mindset of using today's technology with tomorrow's vision.
About the author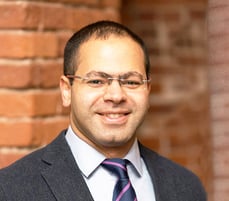 Amr Raafat is the Vice President of VDC & Technology, Windover Construction