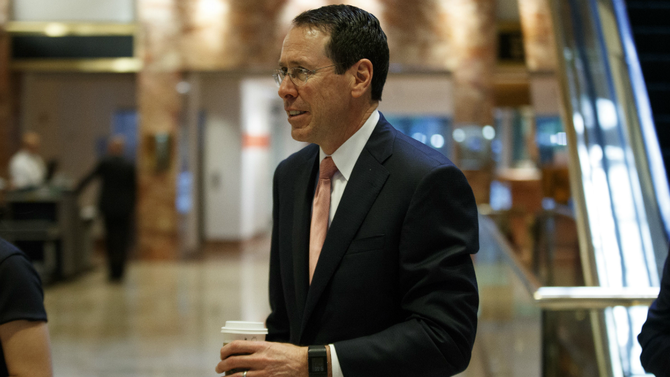 Randall Stephenson, Chief Executive of AT&T met with US President elect Donald Trump, who is known to oppose the company's $85.4 billion takeover of Time Warner Inc
Earlier Stephenson was seen entering the Trump tower along with Robert Quinn, AT&T's senior executive vice president for external and legislative affairs but did not answer questions from reporters . Later a spokeswoman for Trump confirmed the meeting.
AT&T announced later on Thursday that the company's acquisition was not the topic of conversation.
"The conversation focused on how AT&T can work with the Trump administration to increase investment in the U.S., stimulate job creation in America, and make American companies more competitive globally," AT&T said in a statement.
During his White House campaign Trump accused AT&T's proposal to buy Time Warner, owner of CNN and the Warner Bros movie studio, was an example of a "power structure" that was engineered against him and voters.
Since the election, Trump has not kept back from commenting publically on the AT&T-Time Warner deal, but continued to being critical about the CNN
Just before the meeting Trump tweeted: "@CNN is in a total meltdown with their FAKE NEWS because their ratings are tanking since election and their credibility will soon be gone."
Representatives from AT&T and Time Warner declined to comment on Trump's tweet.