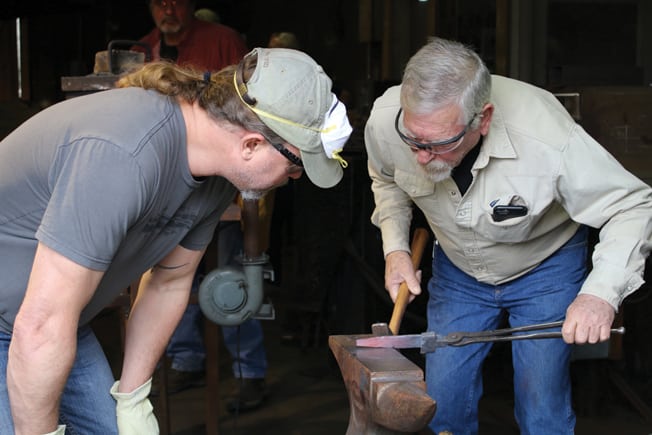 Self-learning and online courses have become the norm of the day. Every day thousands of people are turning on to, Udemy, Coursera and other online platforms to learn anything from new languages to master degree courses. So it is no wonder that more and more traditional schools want to enter into the online course world. Today entering the line is the world-famous bladesmiths Moran School of Bladesmithing. The school was launched in 1988 in partnership between Texarkana College and the American Bladesmith Society and was the first of its kind. They have recently moved to Texarkana College's main campus located in Texas as part of their preparation to offer online courses and other cutting edge technology to its students while holding on to their 30+ years tradition.
The course 'Bladesmithing for beginners' is based on the two weeks in-person course the school teaches in their campus and has an American Bladesmith Society(ABS) Approved curriculum. With the $395 online Bladesmithing for Beginners course, students have access to HD videos, interactive modules that teach them key vocabulary, shop safety, properties of steel, how to set up a shop, and blade design and geometry. Students learn how to forge, grind, heat treat, and hand sand a hunting knife with a hidden tang. The course is self-led, and students have lifetime access to all course content. The course fee includes the student's first year of membership to the American Bladesmith Society. Students can register for the course at learnbladesmithing.com.
"Prospective students often tell us the expense of taking two weeks off work and paying for travel keeps them from enrolling," said Don McIntosh, school coordinator. "This is a way for them to learn the basics and decide whether this craft is right for them before committing to an in-person course. Space is also limited in our on-campus classes, and they fill up fast." In other words, the course offers flexibility, cost-effectiveness overcomes the hurdle of classroom space availability, three of the major reasons why more and more students are turning on to online courses. 
Online courses and modern edtech startups are not meant to replace teachers but instead, they help teachers to interact with students in a better way and also equip them with modern technologies such as AR. 
This online course isn't meant to replace an in-person class—it's meant to be the next best thing for someone who can't train in person," McIntosh said. "Some of our instructors got their start by reading books. If they could learn from a book, we knew we could adapt our class into an online course that would provide students with a solid introduction to the craft."
McIntosh said there are a lot of resources for beginner bladesmiths online, but it's difficult to tell where to start. 
"There might be a great bladesmith forging a knife on YouTube, but they might leave out critical foundational material that beginners need to have before they should start forging," McIntosh said. "This course covers all of those bases."
The school will host an open house and ribbon cutting on Friday, Oct. 11 at 4:30 p.m. at 2500 N. Robison Road, Texarkana, Texas.