VMware is a pioneer to provide the Data Center Infrastructure services with vSphere suite of products in Compute, Storage and Network space in Software defined (SDDC) way to open the gates for Infrastructure as a Code (IaC). We are in the multi-cloud world and moving the Data Centers to the Cloud is not an easy journey but VMware now offers stretching the customer on-prem physical data centers to major Cloud vendors like AWS, Azure, GCP. Today I'm going to cover the details about the VMware Cloud on AWS offering.
VMware Cloud on AWS is an integrated cloud offering jointly developed by Amazon Web Services (AWS) and VMware. You can deliver a highly scalable and secure service by migrating and extending your on-premises VMware vSphere-based environments to the AWS Cloud running on Amazon Elastic Compute Cloud (Amazon EC2).
With two decades of vSphere dominating the Data Center Infrastructure services, there are many skilled professionals available in this area. VMware Cloud allows IT teams manage their cloud-based resources with familiar VMware tools—without the difficulties of learning new skills or utilizing new tools. VMware Cloud on AWS brings VMware enterprise-class Software-Defined Data Center (SDDC) software to the AWS Cloud. It enables customers to run production applications across private, public, and hybrid cloud environments based on VMware vSphere, with optimized access to AWS services. It is delivered, sold, and supported by VMware as an on-demand service. Here is the reference architecture for VMware Cloud on AWS.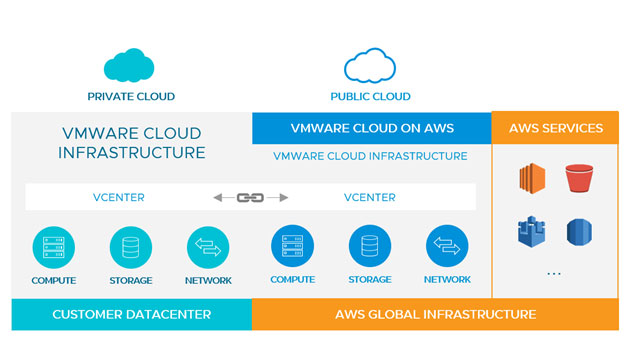 Customers are worried about the large monthly bills from the Cloud vendors, but VMware helps to generate single bill to avoid the expensive bills. The VMware Cloud on AWS solution enables customers to have the flexibility to treat their private cloud and public cloud as equal partners and to easily transfer workloads between them—for example, to move applications from DevTest to production or burst capacity. Users can leverage the global AWS footprint while getting the benefits of elastically scalable SDDC clusters, a single bill from VMware for its tightly integrated software plus AWS infrastructure, and on-demand or subscription services
Operations model is another headache as moving Servers to Cloud and who is responsible for hardware failures, software upgrades, performance? VMware Cloud on AWS is sold and operated as a service. To ensure that all environments perform correctly, VMware manages the systems exclusively. Likewise, VMware is the sole contact point for customers. In case of hardware failure, VMware interacts with AWS on the customer's behalf, streamlining communication and remediation. To enable the monitoring and management of the lifecycle of the cloud SDDC software stack, the VMware Cloud on AWS service retains the administrator rights on the SDDC to deploy and configure the AWS infrastructure and the SDDC software. VMware is responsible for adding and removing hosts and networks due to a failure or if cluster-scaling operations require more or fewer resources. The VMware Cloud on AWS service is also responsible for cloud SDDC software patching and for the application of updates.
The VMware Cloud on AWS service introduces a new cloud administrator role to the traditional vCenter Server user model and extends the roles and permissions scheme. This is to ensure that the cloud SDDC infrastructure is configured in a prescriptive deployment architecture and that the customer cloud administrator cannot reconfigure the management appliances. Within this model, the customer cloud administrator has full control over their workload while having a read-only view of management workloads and infrastructure.
Customers are worried about the application/server outages and Automated Cluster Remediation helps them to solve this problem.  VMware Cloud on AWS uses vSphere HA to ensure that outages are minimized. In the case of a failed host, VMs are automatically restarted on the surviving hosts. vSAN software ensures that any VM configured with a policy of one or more host failures does not lose data. VMware Cloud on AWS then examines the host and either
reboots it, in the case of a transient failure, or replaces it, in the case of hardware fault. In either case, the SDDC continues to run, and vSphere DRS optimizes VM placement to minimize impact on the running VMs. In the case of a degraded host, such as a failed disk, VMware Cloud on AWS efficiently removes the host by putting it in maintenance mode before eliminating it from the cluster. Customers are never billed for hosts that are added to a cluster for maintenance or fault tolerance reasons.
Cloud migrations are not easy as network/complex requirements and cost involved to migrate the data. VMware HCX helps to handle such migration in optimized way. VMware HCX is an application mobility platform that is designed for simplifying application migration, workload rebalancing, and business continuity across data centers and clouds.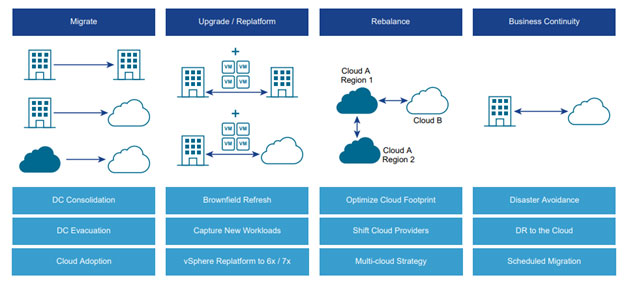 Application migration:  You can schedule and migrate thousands of vSphere virtual machines within and across data centers without requiring a reboot.
Change platforms or upgrade vSphere versions:  With HCX, you can migrate workloads from vSphere and from non-vSphere (KVM and HyperV) environments within and across data centers or clouds to current vSphere versions without requiring an upgrade.
Workload rebalancing: HCX provides a multi-cloud mobility platform across cloud regions and cloud providers to allow customers to move applications and workloads at any time to meet scale, cost management, compliance, and vendor neutrality goals.
Business continuity and protection:  Using HCX capabilities, administrators can protect workloads by replicating them to other HCX sites. Workload migration is available on-demand, or it can be scheduled for business or for maintenance planning.
Conclusion:
The agility to use a private, public, or hybrid environment is one of the main drivers in adopting the cloud. Customers can leverage a hybrid cloud environment in any number of ways. The common denominator is that VMware Cloud on AWS empowers them to focus on consuming resources and managing their VMs rather than spend their time and energy dealing with host-based operations.