Benjamin Franklin said, "If you want something done, ask a busy person."  It is perhaps no wonder that supply chain leaders are feeling overworked of late.  Practically across all sectors, they are having to juggle the consequences of macroeconomics, the seemingly continuous disruptions and the renewed focus on sustainability. The litany of issues that are buffeting supply chains worldwide grows ever longer, from rising inflation through war to resource shortages and the acceleration of digital transformation.  From recent discussions I've had with supply chain directors and managers, it is apparent that there is no prognosis of the storm abating anytime soon, so how can they navigate it?
The consequence of the current situation is that supply chains now much balance three factors that have historically been conflicting:
Cost, reducing it wherever possible, reducing exposure to current inflationary pressures and protecting margins while revenues fluctuate
Resilience, recognising the lessons learnt over the last few years and increasing the flexibility, agility and responsiveness in supply chains and supply networks to cope with disruptions and variability that may – will – come
Sustainability, driving a reduction in carbon and other noxious emissions, reducing waste, energy and resource use, as well as removing and reducing social, economic and legal risks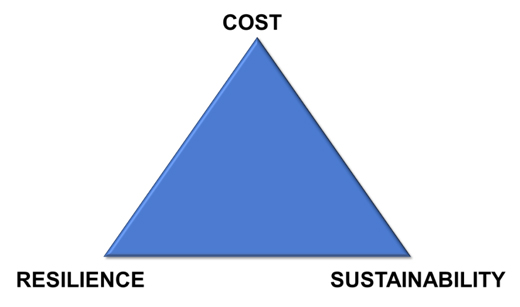 The plethora of approaches that have emerged to tackle each of those factors, from supply chain visibility platforms to process automation and dashboard generators, has resulted in a cacophony of promises, further complicating the decisions that need to be taken.  Is it preferable to focus on cost over the other two factors, or to address resilience, which traditionally increases cost and complexity?
In the midst of this tempest, though, there is one solution that, used judiciously, strikes at the heart of all three of those factors, simultaneously:
Reducing costs in the supply chain
Increasing resilience in supply chain operations
Raising the levels of sustainability in supply chains
That solution is additive manufacture, also known as 3D printing.
Although 3D printing is now over 40 years old, it is only in the last 10 years that it has matured to the point where it now offers supply chains tangible benefits in cost, resilience and sustainability.
The flexibility that it brings in design and quantities that can be produced, together with the range of materials and technologies on offer – because, after all, additive manufacture is a portfolio of different technologies, each of which allows for different accuracies and tolerances –means that it has a wide range of applications in supply chains, from enabling new designs to producing tools and moulds, spare parts and final products.  Table 1 below summarised examples of how 3D printing benefits supply chains.
Factor
Examples of How 3D Printing Helps
Cost

Reducing the total cost of ownership
Reducing tooling costs
Removing the need for minimum order quantities
Reducing inventory holding costs
Reducing logistics costs
Potential for supply chain network reduction

Resilience

Enabling true on-demand production
Reduced lost productivity due to long lead times
Increasing flexibility of production
Raising supply chain agility
Increasing supply chain responsiveness
Increasing redundancy through distributed manufacture

Sustainability

Reducing obsolescence costs
Reduced emissions in supply chain networks
Reduced wastage in production
Reduced disposal of unnecessary items
It has been to chase down those benefits that firms have been increasingly using 3D printing to support their supply chain operations.  The tools company Guhring UK reduced lead times to produce its H13 tool steel milling cutters by 66%, with a cost saving of 75% by leveraging Markforged's Metal X 3D printer.  The global energy company Shell reduced the cost of maintenance of one of its mooring buoys for an offshore structure by 90% by using laser scanning and 3D printing of a polymer seal cover, significantly reducing production downtime in doing so.  Similarly, Shell extended the life of several valves by replacing obsolete, unavailable valve internals with 3D printed versions.  The transport firm, Deutsche Bahn, has already used 3D printing to produce over 26,000 metal and polymer parts in its operations, with a considerable increase in the availability of its assets.
Despite those advantages, 3D printing isn't suitable for many – most – things.  Assessments of companies' inventory catalogues typically find that between 5% and 20% of items are suitable, based on physical and supply chain characteristics as well as the available technologies and materials.
That means that the first step in considering 3D printing as an approach – typically achieved by a proof of concept – is to analyse what physical and supply chain data there is to identify parts and products where there is a tangible advantage to be had by producing them using additive manufacture.
The challenge doesn't stop there though: the 3D printing value chain is non-trivial, involving engineering designs, selecting the right technology and materials to use, obtaining the machines, post-production processing and logistics.  The need to orchestrate so many elements, each of which may be coming from a variety of external and internal agents, means that supply chain decision-makers are all too often put off by the idea.
Recognising that, though, a new model is now available, cutting through the complexity to bring 3D printing as a service to all sizes of supply chains.  The company DiManEx does precisely that, bringing the full end-to-end value chain via a one-stop shop.  Rather than dealing with several agencies, their customers have a single point of contact to refer to.  This starts with the software and experience to analyse a client's materials information and data to identify parts that are suitable candidates for 3D printing.  Instead of only having access to one sort of 3D printing technology, restricting what can be produced, those customers can leverage the full range of technologies as well as the wider set of digital manufacturing techniques such as lost wax and CNC.  Financially, the DiManEx approach reduces the cost and risk of engaging in a proof of concept and scaling the use of 3D printing, by offering commercial terms based on what is produced, removing the need for customers to buy or lease capital equipment and incurring the ongoing costs of maintenance, repair and upgrades.
Armed with that "on-demand" capability, supply chains can now use 3D printing as a solution to their challenges of cost, resilience and sustainability, and they can do so quickly, easily and cost-effectively.