When you check in to a hotel in another country, do you ask the reception which is the best mobile signal there, or do you ask for their WiFi password?  When you are at a major sports event or in a busy transport hub, and you seem to have good reception, do you still struggle to get decent Internet download speed and wonder why there is no WiFi, like on trains?
Telecommunications regulators around the world will shortly be making a decision which will determine whether the door remains open for the latest WiFi technology to meet the wireless connectivity needs of consumers and enterprises.  If you want to know more about available evidence for regulators in this decision, and why WiFi potential must be preserved, read on.
A Digital Business Ecosystem
The enterprise world is demanding mobility and faster connectivity to reap the benefits offered by AI and robotics, and by applications using augmented and virtual reality.  Both the public and private sectors are under pressure to reduce energy consumption and improve security.
Traditional service providers are changing their business models as lower levels of service become commoditised, and as cloud solutions shift the location of storage and processing.
New communications technologies continue to evolve to meet these demands, with greater roll out of fibre, new generations of mobile with 5G and 6G, with new low and medium orbit satellites, and with faster, more reliable, lower energy and lower cost WiFi.
Fibre Enables Higher Speed Wireless Connectivity
In Europe, fibre connectivity is set to double in the next 5 years, increasing demand for higher speed wireless access connectivity to applications and data, but not necessarily while mobile.  Even in the field of telephony, home connectivity in many countries today is largely wireless.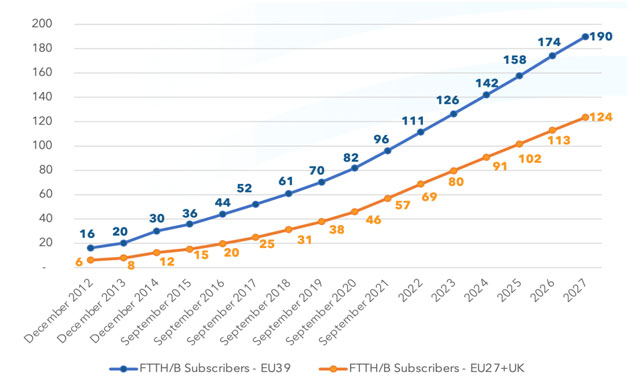 But data is mostly carried over fixed backhaul and core networks once access is achieved.
In Germany, whilst mobile data has grown substantially in the past decade, fixed data is still growing faster.  Connectivity needs adequate performance from both fixed and wireless links.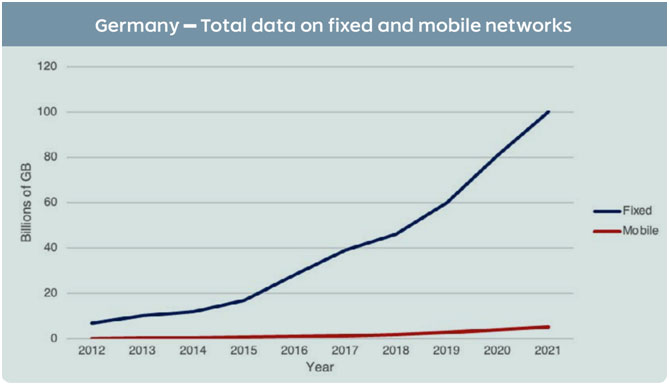 The performance of end to end connectivity for wireless access is dependent on overcoming cell congestion or lack of signal on mobile data networks, propagation for other wireless technologies and adequate backhaul and core network capacity especially in peak times.
Radio Spectrum Allocation Is Crucial
One element which is crucial for wireless connectivity continues to be spectrum availability.
Technology developments have made the use of more spectrum bands feasible and global harmonisation is essential if economies of scale are to be achieved with equipment supply.
The World Radio Conference (WRC) manages spectrum use. Licensing bands for specific use has enabled successful rollout of a series of generations from GSM, 3G, 4G/LTE to 5G,but it restricts the use of future technologies from making better use of those bands.
Mobile operators offering IMT services say they need to double current spectrum by 2030,
but take up of current licensed spectrum is relatively low and more mid band is available.
In contrast, WiFi6E does not have enough capacity now and demand will grow faster.
Effective Indoor Coverage Solutions Are Needed
Anyone attempting to connect online in an airport or railway terminus, in a sports stadium, in a pop concert or theme park, in a busy shopping mall, or in a hospital or university or school, will have experienced frustration in trying to get connectivity or adequate download speed.
Operatives in large distribution centres and robots communicating in such locations use other forms of radio communication.  Propagation issues are different but these can be resolved.
Coverage by traditional mobile technology is often inadequate and ineffective and in order to address this more cells with greater power would be required which might still be inadequate.  A WiFi solution is the best way forward as is seen on moving trains. When one arrives at a hotel, the question isn't, "What's the signal like here?", it's, "What is your WiFi password?"
Current Large Scale WiFi Implementations
The Case Center in San Francisco is a sports and leisure venue with a capacity for 18000 people, with 250 WiFi 63 access points installed providing high quality performance for all.
Michigan University may be the largest public deployment of WiFi 6E known officially today. The campus covers over 200 locations including classrooms with 500 simultaneous users.
Its 16000 access points deliver over 300Mbps download for 70000 concurrent users.
Novent Health in North Carolina is an example of the value of a 1200MHz block of spectrum which is free from interference, which is so crucial for mission critical health applications.
Economics, Energy, Equipment And Spectrum
A study by the Telecom Advisory Services in Europe has shown that WiFi is forecast to have a positive economic impact over the next few years in terms of added value.
ICT energy use is significant and the French regulator ARCEP has shown a combination of fibre and WiFi uses a tenth of the energy of mobile. Orange have urged consumers to use WiFi not mobile to save energy.
The roll out of WiFi 6E is already fully supported by industry readiness in terms of equipment.
Data from BNetZa showed that data transfer per GHz by WiFi is 32 times greater than mobile.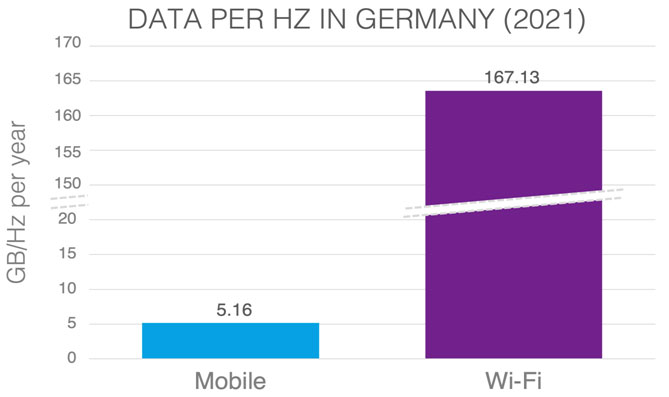 The 6 GHz band – Licensed Or Unlicensed?
Leaving the 6GHz band wholly unlicensed ensures the world isn't confined to one technology for a crucial part of the radio spectrum, but is kept free for WiFi 6/6E and 7 and private 5G/6G.
Restricting the licence-exempt band to 5925-6425 MHz stops use of 160/320 MHz channels.
USA, Canada, Brazil, Saudi Arabia and many others have decided to open the band to new unlicensed use. Europe, Africa, Australia and Japan have decided or recommended that at least the lower band be unlicensed.  Those who license any of the band will fragment the equipment market. The right decision at WRC23 can ensure that WiFi can continue to play a key role in future connectivity for consumers and enterprises.