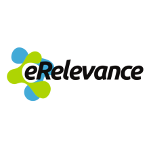 Pioneer in Consumer Engagement Services Continues to Identify & Solve Critical Challenges Facing SMBs
AUSTIN, Texas – June 14, 2018 — eRelevance Corporation, the leading provider of consumer engagement services for small- to medium-size businesses (SMBs), today announced a suite of tech-powered services to help SMBs grow more cost-effectively.  The services drive more demand, lower advertising costs and improve lead conversion.
"We are uniquely focused on changing small businesses forever by bringing big-company consumer engagement capability to them as affordable, turnkey services," says eRelevance Co-founder and CEO Bob Fabbio. "We have consistently heard from SMBs that they face challenges trying to grow in a cost-effective manner through customer and prospect engagement because of limited tool capabilities and lack of time and expertise.  With this suite of services, we've changed the game for small businesses in terms of their ability to grow and thrive."
The eRelevance suite of services:
eRelevance Customer Engage™ engages customers through targeted, multi-channel campaigns that increase the lifetime value of existing customers.
eRelevance Prospect Engage™ captures and quickly engages prospects with a targeted, multi-channel approach that maximizes the return on marketing spend.
eRelevance Connect™ follows up on customer and prospect responses to marketing campaigns, then connects them with scheduling resources, increasing the likelihood of conversion and minimizing lost revenue.
eRelevance Capture™ captures responses from email blasting and advertising efforts, and tracks return on investment.
About eRelevance Corporation
With the vision to forever change small businesses, eRelevance is pioneering the delivery of big-company consumer engagement to small business as an affordable, turnkey service.  eRelevance's game-changing suite of tech-powered engagement services powers the growth of more than 1,200 small- to medium-size businesses—driving more demand from customers and prospects, lowering their advertising costs and improving lead conversion.
Privately funded and based in Austin, Texas, eRelevance has been recognized locally, nationally and internationally with awards for its breakthrough innovation, including Red Herring 100 North America and Global awards, Entrepreneur magazine's Best Entrepreneurial Companies in America, and the A-list of Hottest Startups, presented by the Greater Austin Chamber of Commerce and South by Southwest.  For more information, visit erelevancecorp.com.
Media Contact:
Cassady Nordeen
cassady@blastpr.com
(718) 644-0273